So Boomtown was once again fire.  Thursday started off with A quick freestyle. I Hyped up the crowd nice  ( NattySpeaks  ) ready for JMan to open the stage and smash it in his usual style.
Then Mr woodnote and Lil Rhys asked me to join them for a track. Which was much appreciated and these two always rock. I especially Love Mr Woodnote for his amazing musicianship. Big Love guys and thank you. Always great to see you both. You're dope!
Then we had Dr Syntax and Pete Canon …..Absolutely smashed the show and it's incredible to see these two rising. Great Lyrics, Great show. Dope Performance. The crowd went nuts!! 
DrSyntax Pete Canon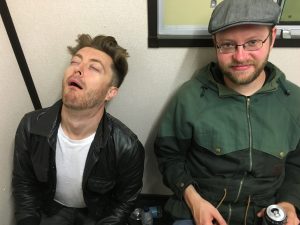 Finally Dead Players closed the stage. Bringing the Curtain down on what I would say was our best ever opening day.
Big Love BoomTowners and thanks for bringing the energy.
Friday was another dope evening with awesome artists my highlights were The Mouse Outfit who absolutely smashed the place up and Levelz who I had personally never seen live but Fox and Skittles along with the rest of the crew smashed the place to pieces ending the set with the crowd all singing Home and Away.. I kid you not.. I for one am now a Fan and this lot are nuts!!!!! ThankYou
Saturday was incredible I finally got to  see 2 of my HipHop Heroes DJ Format and MCAdominal… What a show.. I mean it was incredible.. These two deserve to be on every stage at every HipHop event EVER… Such a dope show but also what level humans.. They got it all…  For Live show check here 
Dj Format and McAbdominal
The it was ReepsOne.. I can't really put his show into words.. The guy is abnormal.. Its ridiculous.. Some of the sounds he makes with his voice make me realise that we are amongst Aliens… Every time I see Reeps he raises the Bar.. Shouts to Linden Jay for making everything sound so perfect!
Then it was SubMotion Orchestra… Again… So good.. Even with Ruby having a dose of Food Poisoning and feeling completely under the weather she hit every note and performed flawlessley… I finally got to watch them live and I wasn't disappointed they have it all… Incredible!!!
Sunday was MY Night… Quite simply it had my Family on one stage… it started with the DJ DON
JFB
 killing it in his usual style.. Such a Professional
Then we had the man himself 
Pharoahe Monch
 and Boogie Blind with the Ezra collective – This show was next level and its great to know that the Heroes you have are actually safe, down to earth humans who are on a level.. (Shouts to Kash Hope you get that presenters role you want bro!!!)
Next up was DJCraze… I haven't seen Craze since way back…Could be 15 years since the days Defcon were playing alongside the likes of Tim WasteMan and Scratch Perverts and regularly touring the UK… What a DJ and dope bloke.. Great to se you still killing stages and bringing the noise.. The fact Craze was directly up against Damien Marley and still got a crowd speaks volumes.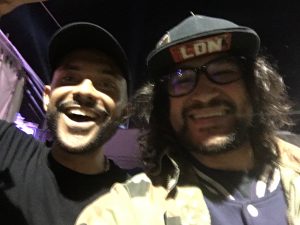 Finally to end BOOMTOWN and our stage was the incredible Foreign Beggars… Massive love to you ALL and Thank You for bringing the Energy and closing our 2016 in style.
Shouts to  Cat, Cara, Ben, Sam, Allana all the security in our field.. Wonka and of course Kaptin!!!
Other highlights for me were seeing MauMau, DaddySkitz  and
Joe Burn
 kill the Tangled woods… Totally Killed it.. Can't wait to get this album finished… Smashed it out the ball park. I also had the pleasure to see my Friend Hassan who made it all the way from Syria through some of the darkest days to stand in front of stage and see his smiley face made me a Happy man…
Till next time.. Big Love
X