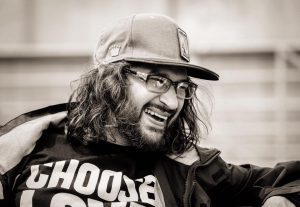 NATTY SPEAKS
Natty Speaks is an irrepressible Hip Hop entertainer – versatile, gifted and outspoken. On stage he carries audiences on a journey via freestyle Hip Hop, Reggae toasting, off-the-cuff comedy and human beatbox. It is an explosive combination that has ignited stages from Jazz Cafe to Glastonbury Festival. Off stage he is a producer, DJ, record label boss and inspirational workshop leader propelled by a passion for empowering young people. When Natty Speaks, people listen.
THE PERFORMER
From Kaliningrad to Toronto, Natty has lit up shows internationally with all-round skills and lyrical firepower. He bounces across stages with unadulterated energy rooted in the days of Jungle pirate radio but schooled in Hip Hop. As front man of renowned bands like Sweet Toof (Radio 1's Unsigned Act of the Year), True Ingredients and Kaya, he has supported Neyo, Big Daddy Kane, The Pharcyde, BlackTwang and Ugly Duckling. 2014 saw Natty rocking BoomTownFair with Pete Canon, Shindig, Glastonbury & Shambala with Ghetto Funk Allstars Glastonbury (RumShack) with Lyrix Organix Sub System which Natty also hosts. Natty is currently working with Second Hand Audio, DJ B-Side, Mexican Dubweiser and EZPZ reaching a global audience.
He has releases dropping on the Ghetto Funk label in 2016 which Includes the Second Hand Audio Extended Player Double Vinyl. Natty has hosted TV shows on the Extreme Sports Channel!
In 2012 he toured with the acclaimed Lyrix Organix: Relay, which saw him perform explosive freestyle rap/beatbox from town squares to Thames Festival and beyond.
THE LEADER
Natty Speaks is perhaps best known by the next generation as an inspirational youth ambassador. Committed, experienced and charismatic, Natty is highly regarded across London and the South East for his tireless work in classrooms, charities and youth centres. His company Defcon Workshops creates bespoke programmes for young people with troubled backgrounds and disabilities to MC, sing, write, produce – even customise clothes and create street art. Partnerships include Media Trust, Adobe and The Roundhouse, as well as teaching at City of Westminster College. It's no slogan – Natty Speaks actually is inspiring a generation, from the ground up.
THE FUTURE
You can catch Natty Speaks performing his improvised solo shows from gig venues to art galleries across the UK. 2016 will see him unleash a succession of singles, EP's and features as well as a wealth of emerging talent on his rejuvenated Defcon Records label and on Ghetto Funk.
Also Somewhere Out There the documentary that Natty found himself involved with out of a passion for helping people (in this case refugees) is out this year. It has led to many a new friend and a whole load of future workshops.
Natty Speaks continues to work closely with Lyrix Organix on projects including youth workshop programmes (for the likes of the Mayor's GLA and Positively UK) – inspiring the next generation to make their voice heard. When Natty Speaks, people listen.
Management will@gfmanagement.co.uk
Bookings adam@gfmanagement.co.uk