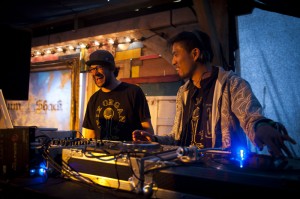 Now hosting their own stage 'The Rumshack' at Glastonbury – one of the most talked about new venues in The Common – Lyrix Organix Soundsystem (aka LOS:S) has emerged from the shadows of Lyrix Organix to become a bass-fuelled beast of its own.
Spearheaded by the international duo of DJ Dan Tsu (Lyrix Organix founder) and charismatic frontman Natty Speaks (Defcon Records), LOS:S kidnap and catapult the dancefloor on a voyage across the deeper spectrum of Bass music.
Their explosive DJ sets mix up the freshest cuts with lost classics and exclusive drops – on a quest to challenge audiences, explore new angles and tear up soundsystems in a way that Lyrix Organix are famous for. Joining the dots between early Dancehall and upfront Drum'nBass, classic Dubstep to future Garage… expect no boundaries, only bass.
---